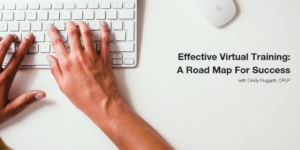 Have you been asked to design or deliver virtual training but aren't sure where to start? Have you been facilitating virtual classes and want to make them better? Are you doing everything you can to create effective and engaging online programs?
In this interactive webcast, you will learn the three critical components to every successful virtual training program. You'll also discover five keys to designing interactive programs, five skills that effective virtual facilitators need, and three considerations for participant setup.
You'll hear answer to questions such as, "What's different about virtual training compared to classroom training?" and "How do you keep everyone engaged when you can't see them?" You will leave the session with a road map for successful virtual training classes, with ideas you can immediately apply in your next live event!
In this webcast you'll:
Recognize five keys to interactive virtual training design.
Identify five skills needed to effectively facilitate virtual classes.
Create an individual action plan for successful virtual training.