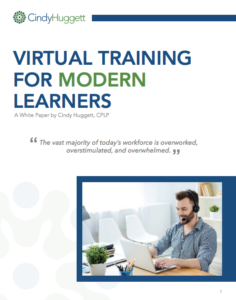 The vast majority of today's workforce is overworked,
overstimulated, and overwhelmed. On average,
people check their smartphones at least 9 times per
hour, use multiple devices at least 2 times per day, and
give content less than 7 seconds of attention to decide
if it's worth their time. When in a working environment,
modern learners get interrupted as often as every 5
minutes.
With these challenges, how can virtual training provide value to the ever-changing complexity of modern learners' expectations? This white paper will break down each criterion and take an in-depth look at each solution.
Save
Save
Save
Save
Save