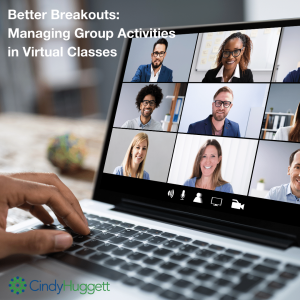 How would your virtual participants describe the overall learning experience in your online classes? Is it a seamless experience or do you have technical challenges? Do you avoid using breakout rooms because they seem complicated?
Join this interactive session and learn exactly how to set up, facilitate, and manage different types of engaging virtual class activities to create a seamless participant experience. Cindy will share her expertise on how to run breakout rooms for collaboration, create teams for group involvement, and how to creatively use common virtual classroom tools for connection.
Please note that you will need to register on the Training Mag site to view this recording. It's free, but requires registration.