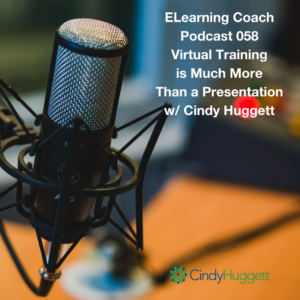 How can you translate the in-person learning experience to an effective virtual classroom? This episode answers that question. Discover the misconceptions people have about the virtual classroom experience and get tips and techniques for facilitating an effective virtual learning event. You'll hear how to increase the interactivity and collaboration of the virtual classroom so that participants get involved.
WE DISCUSS:
The difference between virtual training and webinars or webcasts
Why virtual students need their own device to participate
Three components of a successful virtual training event
How to prepare participants to be ready to learn
The biggest challenges of turning in-person training into a virtual classroom
What's changed in virtual training in the past decade
When to use participant web cams
Effective activities for a smaller number of participants
How to efficiently break people into groups in online training.
A brilliant start-up activity that breaks isolation
Managing participant use of audio
Which virtual classroom platform to choose
Examples of creative use of the virtual classroom
What's in store for the future of virtual training.