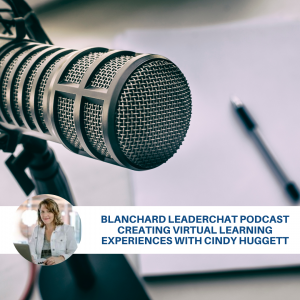 In this episode, hear virtual training pioneer Cindy Huggett share information from her book Virtual Training Tools and Templates: An Action Guide to Live Online Learning. She offers tips to ensure your virtual training is successful by meeting the specific needs of your organization.
The first step is to define what virtual training means for your company. For example, if you are trying to replicate an in-person experience for a small audience, your design will have different requirements than it would if you were trying to reach a large audience.
When creating a virtual program, the three most important things to consider are an engaging facilitator, an interactive design, and prepared participants. Preparation is a key to success. Virtual facilitators must understand the specific features of the technology they are using and have backups in place. Huggett's book offers a virtual trainer checklist to help.
Most of all, facilitators need to realize that delivering in the virtual arena involves much more than simply making a presentation. Facilitators must make learners the focus—and think of the training as a conversation. To help the learning come alive, make use of the time together in the virtual setting exactly as you would in a face-to-face session.